Don't the size of the tires, on some degree, define
what
 bicycle you have and
who
 you are? Bikes such as monstercrossers aren't that different than a regular cyclocross bike – just with wider rubber. And what about the veritable 29er? Not so different than a hard-tail 26in-wheel mountain bike in everything
except wheel size!
 As it stands right now, there are four well-known sizes for bicycle wheels: 26in, 700c, 29in, and 650b.  Yes, 700c and 29in wheels and tires are technically the same, but for the purposes of everyday cyclists (and morover, the cycling industry), 29in is a buzzword for width.
26in is by far the most common – the VW Beetle of bike wheels if you will. Ubiquitous all around the world (especially the 3rd world, as the Beetle used to be!), and often easy to find cheap replacements, it is loved for its smaller size as this increases its durability. If you ride this size, you are a no-nonsense, function-over-form kinda cyclist.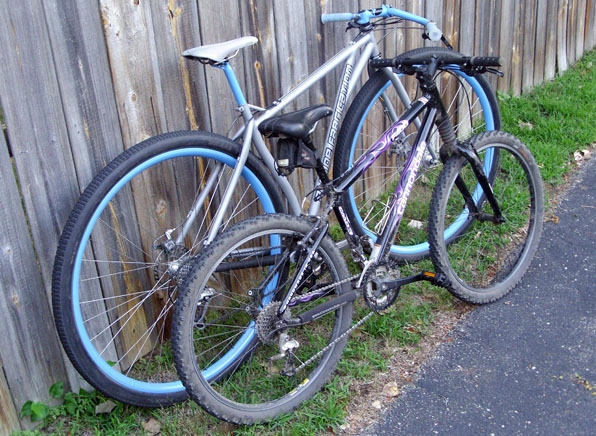 36er?!? Now you're just showboating!
700c is for those who love the open road, and speed – the sports cars of bike wheels. The large diameter wheel and thinner profile tires make them roll over road bumps more easily, and have low rolling resistance. Often a little harder to find and slightly more expensive, the can be slightly more delicate as their larger diameter makes them less forgiving to rough treatment. If you roll on 700c, you are concerned about speed, and love the cruising on the roadways.
29in tires and wheels can be likened to SUVs in the car world – requiring a lot of energy to roll fast, but  fun when off road or in the gritty stuff. Also like SUVs, they can have a bit of a "status factor". They can be a little more delicate the their 26in cousins, but that special ability to roll over all obstacles often makes them desirable for the offroading crowd. If you have a 29er, you like to be proud of what you ride, but you are willing to have fun along the way.
And of course, how can we forget 650b? They are the Austin Mini of the cycling industry, in that they once were very popular, but fell out of favour and production was stopped. With a 'rebirth' into the nostalgic minds it was launched, so just as new Mini Cooper, the 650b tire is making a come-back in popularity. An odd size in-between 26in and 700c, but with a 29er's thickness, it is the French tire size from a bygone era. If your bike is equipped with 650b wheels, you may just be a "Retro-Grouch, loving the "tried and true" of yesteryear. That or, you are a hipster trying to keep up with the latest, if not most functional, cycling trend.


Of course, these are stereotypes – but I think from the websites of Velo Orange and TwentyNineInches and the endless personal and forum experiences we've all had, we can say they are often true!